11.14.2012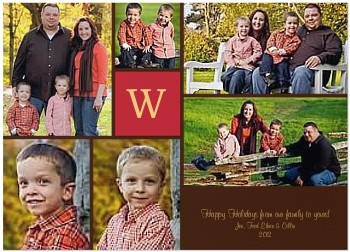 Monogram Memories Christmas
Browse
Shutterfly
's unique Christmas card designs.

Posted by

Jen Weisser
at 10:16 PM
No comments:

1.01.2012
It has been our little Christmas Eve tradition to "track" Santa on the computer while we put out milk & cookies for him. This year it was really cute to listen to the boys have a conversation about Santa & how he can deliver all of the presents in one night.
The right before bed we always try to get a nice picture of them both in their Christmas jammies in front of the tree. Every year this is pure torture! They wont smile at the same time, they wont stay still, one doesn't want to take a picture, etc…. This year on top of all of that, I was still trying to figure out my new camera to get the right setting for the picture. Well these are as good as I could get!
Well then they were off to bed. Think it only took them moments to fall asleep this year!
Santa has arrived!!
This year Ethan asked for another item that DOES NOT EXIST!!! A Ford F350 truck with a V-plow. Santa ( I ) spent months looking for this item! I don't know a kid that has such specific toy requests! Well Santa was able to find one (tiny one) that had to be special ordered from a toy maker in Ohio. But was disappointed because it wasn't exactly what he wanted. So Santa's head elf (Fred) spent a few hours custom making v-plows to connect to two larger Ford trucks. Ethan was ecstatic!!
Collin really only wanted a Garbage truck! He got 2!
Ethan's #2 Santa list item was a Polaris snowmobile.
I cant believe how fast they tore threw those gifts & how much wrapping paper was all over!!
Santa had one present hiding for each of them. Ethan's was the big Ford F350 with V-plow. When he opened it he yelled out "Holy SHHHOOOOOTTT"! Then he looked up in the air & said "Thanks Santa! Thank you, thank you, thank you!!"
Unfortunately I had woken up that morning not feeling so great. & by the time the boys finished opening their gifts I was much worse! I think I had a 12 hour flu. My entire body hurt, I had fever, chills & nausea. It was awful! I spent the entire day on the couch. And we were the ones hosting Christmas dinner for everyone! Luckily I had prepped everything the night before, so Fred & my mom just had to get everything out & warmed up. We don't do a big meal anymore on Christmas day, just a lot of picky stuff & pasta dishes in crock pots, that are out all day so people can eat whenever they get hungry. It's gotten too hard to have a big sit down dinner when everyone is in & out going from house to house all day & you cant plan on a time to have dinner that works for everyone. Plus I don't want to have to spend the entire day cooking & cleaning up when I want to be relaxing & enjoying watching my kids play with all their new gifts.
Hope everyone had a great Christmas & New Year's Eve! I swear in 2012 I am going to try to blog more often! And keep up with everyone else's blogs!
(P.S. Post 3 of 3 today)
Posted by

Jen Weisser
at 11:58 PM
4 comments:

We may not have a ton of people, but we are so lucky to have such a great group of people in our local LPA chapter! The kids all get along so well & have such a great time together! We had a nice Christmas get together at our Chapter President's house. The kids had fun with the elephant gift exchange.
Ethan really has grown fond of Eric, one of the older boys in our chapter. And I think Eric has also become fond of Ethan too!
Parties almost over…. just hanging out watching the Polar Express. Notice Ethan & Mackenzie cuddling up together!
On our way home Ethan confessed to me that Mackenzie is his girlfriend. And that she kissed him! He says they are going to get married! Our 1 hour & 15 minute car ride home all he did was talk about Mackenzie. So cute! Cant wait to look back on this in about 15 years & see if it happens.
Our Chapter will be hosting our district's Fall Regional this year. I cant wait! We are planning to host it in Saratoga. It is going go be so much fun!
(P.S.- Post 2 of 3)
Posted by

Jen Weisser
at 11:51 PM
1 comment:

This year Ethan's class put on an adorable Christmas play. It was "Twas the night before Christmas". He was chosen to be a stocking, which he was very disappointed in because the stockings "didn't get to do anything, but just stand there!" I told him he it didn't matter what part he had, that he would be great regardless! I told him to go out there & be the best stocking up there! Well the first few minutes he did great, but after a few minutes of standing still what 6 year old can keep standing around doing nothing? Well he was getting antsy, he danced when the other kids danced,flung his stocking "costume" around, & leaned against the cardboard chimney that the stockings were "hung" from, almost knocking it over a few times. But when the play was over & he no longer had to stand still, all the kids got together & sang a really cute song. This is my first attempt at a youtube upload so I really hope it works! It is really cute! Sorry the camera is so unsteady. I had Collin hanging off of me while I was taping & I couldn't stop laughing during a few parts! This is the link-
The stockings were hung….
When Santa "came down" the chimney….
The cutest lil stocking!!
(P.S.- post 1 of 3 today)
Posted by

Jen Weisser
at 11:46 PM
1 comment: